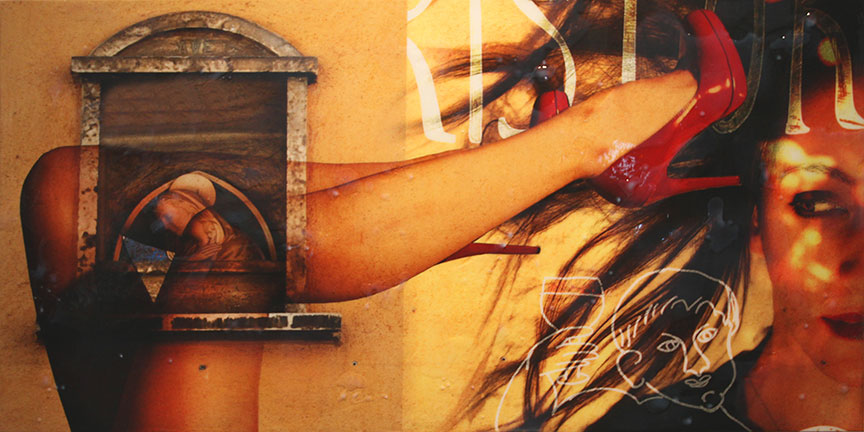 Judith Kindler
Judith Kindler is an American multidisciplinary artist working in sculpture, installation, photography, and photography-based mixed media works. She is noted for her use of diverse and complex medias in the expression of a conceptual or narrative idea.
Born in Western New York, she grew up artistically under the influence of the New York Avant Garde. The frequent moves through the course of her adult life due to her work in the Applied Arts required her to have extended stays or to live in New York, New Orleans, Los Angeles, San Francisco, India and Italy and ultimately settling in Seattle where she resides today. These places have had a tremendous impact in informing and influencing her art and can be seen woven throughout her work over time. Although she studied classical painting, sculpture and photography, she has always been drawn to experiment with new media and thus came to develop her own unique combinations of medias by the time she focused solely on her art in the 1990's.

Click here to read more

Her work reveals both conscious and unconscious thoughts typically in response to current or past events that have impacted her life on a personal level, or as she interprets the greater impact to the overall social community. Through an implied narrative and story telling, the artist explores the psychological and the human threads common to us all and reflected through the focused lens of a place, a time or a human experience or expression.
What do the curators and critics say about Kindler's art:
Peter Frank, renowned American art critic and Huffington Post contributor writes:
"With her painting background, Judith Kindler appreciates the urgency that physicality gives imagery, and she has set out to explore the place where the picture becomes substance and its sway over us becomes substantial. In this, Kindler follows – in her own fashion – a tradition of "re-materiality" limned a hundred years ago by Dada artists.."
Kindler's work in encaustic was described by Stefano Catalani, Artistic Director and Curator of the Bellevue Arts Museum in the exhibition book entitled "Defining Truth / Judith Kindler": "The composition of the photographs is minimal, reduced to standing girls and young women in white delicate clothing, often against an indefinite and blurred background. The spatial perception here is blind, almost dimensionless, except for the human figure. The white atmosphere is rarefied, suspended, though charged at times with symptoms of tension: A sudden gesture of embrace, eye contact with the viewer, lifted hands, or eyes cast down . . . Judith Kindler builds up the narrative and iconographic space . . . a repertoire of symbols and seminal ideas projected out for readers able to decipher."
"The brilliance of Judith's innovative artistry is that she can strike a unique balance between the juxtapositioning of high-art concepts with accessible imagery and physical experiences. She sets her sights at incredibly high levels to deliver a thoughtful and impactful reflection of our basic humanity and our need to connect." – Fidelma McGinn, Director of Washington State's Artist Trust.
"Judith is a wickedly talented artist who manages to combine intensity, humor, and intelligence in everything she creates. I have yet to encounter a work of hers that I didn't find gorgeous or make me laugh or both" – Mike Sweney, Public Art Manager for Washington State
"Can You See Me" video below

"The Shape of Things to Come" video below

our featured artist below