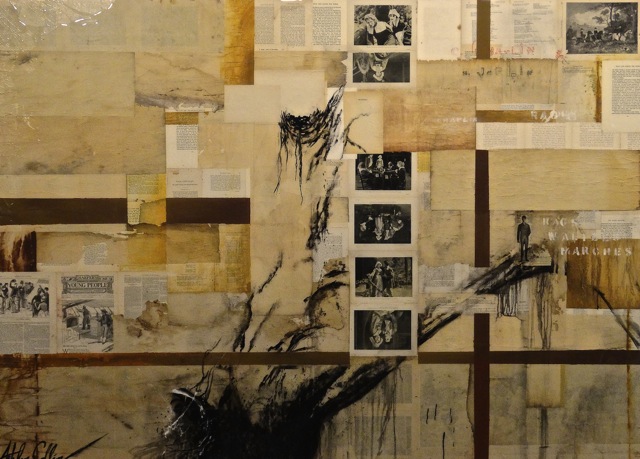 Ashley Collins
"Having had her own years of homelessness, of sleeping on concrete floors, and depending on the kindness of strangers, Ashley Collins, is now using the success and celebrity of her art to give back on a large scale to those in need worldwide. In fact, each collector becomes an angel in the background that makes these wonderful projects possible. Below is a partial list of works and organizations that are ongoing worldwide. This list is also in part a challenge to other artists to channel their celebrity back into those less fortunate."
ARTIST BIO
Ashley Collins set out on an artistic journey, over 26 years ago, that would become one of the most difficult and successful in contemporary art history. A journey that included homelessness, sleeping on concrete floors, living out of cars, eating meals of peas and ketchup off a single hot plate – the same hot plate then used to melt the wax which would surface her early paintings. Any money made went to buy paint, to buy supplies. A bed was not important, a brush was. A home was not important, a studio wall was. Collins would paint on salvaged sheet metal, as canvas was too expensive Collins' existence was primitive at best at the beginning- and every dollar she had was used to create her art. Collins broke new ground creating mega – scale contemporary layered paintings of horses, using collage, obscured historical images; layer upon layer in a way in a unique style. Her goal has always been to create lasting works of passion, depth and hope that would be eternal in their power and healing.

Click here to read more

After some nine years of a journey that could not be wished on anyone, Collins scraped together enough money to open a small gallery in Venice. Collins claimed her works were those of a reclusive male – during these early days, since the art world was an exclusive conclave of men. From her gallery, Collins' works began to sell under the guise of a male painter. As time progressed, the sales were strong enough that she was able to go public, the male guise no longer needed, as the knowledge of her success overtook prejudice. The works sold and kept selling.
Today Collins prices have continued to rise as more and more blue chip collectors drive prices (Collins prices have never decreased-even during the last two recessions when many parts of the art market collapsed). Today, Collins' 800 painting body of work is collected by known collectors like Christy Walton to Robert Redford, Kahlbetzer to Speilberg, Rosenthal to Wynn.
A consistent historical through-line is seen from her early work to today's pieces. Today, Collins is one of the most highly valued female contemporary artists of our time. Her mega- scale works have become iconic in the lexicon of American art. Collins' journey is far from over.
SELECTED CORPORATE & INTERNATIONAL COLLECTIONS
Guess?, San Francisco, California
Trinchero Winery, Napa, California
20th Century Fox, Los Angeles, California
CC Group, Bath, England
Chang Collection, Victoria, Australia
Creative Artist Agency, Los Angeles, California
Galtrucco Collection, Milan, Italy
Miller/Wichengrad/Peacock, Beverly Hills, California
Harris Estates Winery, Napa, California
Kahlbetzer Collection, Australia and Argentina
Romy Collection, Malibu, California
Green Collection, New York, New York
Trinchero Winery, Napa, California
Brillstein-Grey Entertainment,  Los Angeles, California
Raleigh Enterprises, Los Angeles, California
Electric Mountain Films, Los Angeles, California
Tiger Productions, Los Angeles, California
Horchow Collection, New York, New York
Gott Estate Winery, Napa, California
Corliss Estate Winery, Walla Walla, Washington
U.S. Embassy, Brunei, courtesy of Ambassador William E. Todd
U.S. Embassy, Ethiopia, courtesy of Ambassador Donald Yamamoto
U.S. Embassy, Saudi Arabia, courtesy of Ambassador James B. Smith
SELECTED PRIVATE COLLECTIONS
Christy Walton Collection
James Collection
Arliss Howard Collection
Jill St. John Collection
Alice Walton Collection
Danny Sulivan III Collection
Debbie & Damon Fisher Collection
Karen Stephensen Collection
Mindy Schultheis Collection
Lori & Chuck Binder Collection
Amy & Danny Jacobson Collection
Blythe Danner Collection
Cristan & Kevin Reilly Collection
Bruce & Stacy Kirshbaum Collection
Peter and Melanie Munk Collection
Mooty Family Collection
Barsema Collection
Speilberg/Kapshaw CollectionWynn Collection
Robert Redford Collection
Deborah Winger Collection
Robert Wagner Collection
Michael Skloff Collection
Skinner Collection
Joanna Johnson Collection
Noah & Tracy Wylie Collection
Thomas Coates Collection
Kahlbetzer Collection
John & Margaret Ptak Collection
Wendie Malick Collection
Rosenthal Collection
Thomas Coates Collection
Bollinger Collection
Krups Collection
Thomas Collection
Rubin Collection
our featured artist below