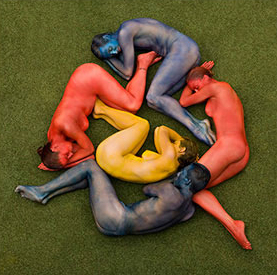 Steve Hix
"Breaking down complex environments into the simplest of abstract shapes and forms is a sensory task I find soothing. Since birth I have dealt with a form of an auditory processing issue called discretionary hearing. When I'm in a group of people, the volume of everyone in the group appears the same regardless of their distance from me. Thus a thousand voices might be speaking to me at once, all at the same volume.
I constantly try to break down all sounds, objects and forms into their simplest and most pleasing aesthetic foundation. Balance is always my visual objective. Only when balance is achieved do I find the calm within.
Image making is my voice. When there is order out of chaos, there is peace. Sometimes I capture the chaos that my mind experiences in a loud room full of people, other times I simply desire a quiet resolution and frame my image in a graphic and structured way. Both types of visual expression illustrate my never silent mind. Photography is definitely a therapeutic release for me."
Click here to read more
ARTIST BIO
For more than forty years Steve Hix's photographic path has varied across many avenues ranging from news, documentary, commercial and fine art, including twelve years of studio and twenty eight years of location. He has traveled to over sixty countries around the world gathering imagery that numbers in the millions. His assignments have varied from covering anti-war protests in the late 1960's for A.P. to documenting entire Caribbean islands for the extremely wealthy. No matter where or what client he is working for, he always finds time to shoot for himself along the way.Steve's graphic eye is always breaking down elements, whether natural or man-made, into the simplest forms. He learned his skills in black and white years before he entered color, and still shoots with this media if he feels it best fits the environment he is portraying.
Today Steve has opened his library to share images that he has collected along his well traveled paths between 1969 and 2011. His sensitive approach to landscape is captured through the various projects he has undertaken in some of the most beautiful places on earth. He continues to add to his long term projects and is working on new ones right now.
CORPORATE COLLECTIONS
21st Century Investments
Ocean Spray
Rayovac
Marriott
H&R Block
our featured artist below