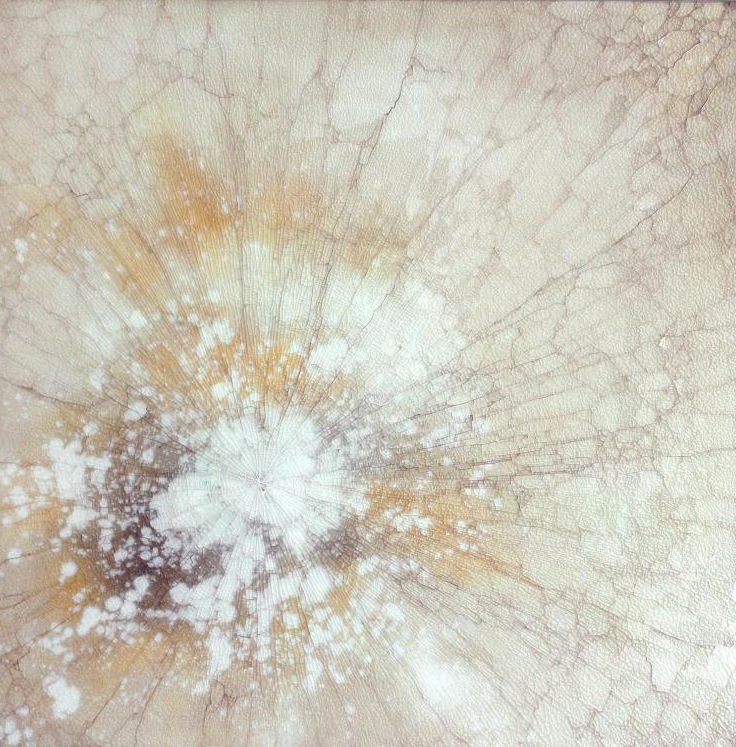 Cassandria Blackmore
As she envisions it, "Human interaction is integral to my work, and I also hope to inspire others to see how a disability can be a gift."
Employing a unique method known as reverse painting on glass, Blackmore first finishes a painting backwards – essentially creating it from the viewers' perspective – shatters it, then puts it back together.  Her ability to paint in reverse – she even signs her name backwards – is the result of severe dyslexia.  "I am able to see letters, numbers, and even compositions, backwards," she explains.
Her childhood – spent with her family on a self-sustaining farm – directed her creativity toward an end result. As she puts it, "I became a maker of things, so being an artist was not a mystery to me. It is not what I do.  But rather, it is who I am."  Formal art education and training, including studies under the late artist and curator Gordon Gilkey, further opened up her eyes.
Click here to read more
Now widely-recognized as a pioneering artist whose work goes beyond the traditional boundaries of glass and into the contemporary realm, Blackmore's defining moment came more than sixteen years ago.  She experimented with removing the glass from a picture frame, painting a self-portrait, shattering it, then reassembling it like a puzzle.  What was an allegory for her life at the time begat her unconventional approach.  As she recalls, "It was the perfect marriage of painting, image-making, tactile qualities, reflection and resurrection."Profoundly she observes, "We all have periods in our lives when we are shattered.  Our ability to put the pieces back together makes us more beautiful and interesting.  It is the essence of breaking down an image then restoring it to another version of itself that intrigues me."
ABOUT THE ARTIST:
Cassandria Blackmore was born in California and spent part of her childhood in the San Francisco Bay Area with her English father and her American mother.  She studied at Lewis & Clark College, pursued independent studies in Yorkshire, England, and received a Bachelor of Fine Arts degree from Pacific Northwest College of Arts, where her thesis was on exploring Eastern and Western perspectives on art.  She is a recipient of the prestigious Hauberg Fellowship for painting on glass.  In 2006, she was honored as the Renwick Smithsonian artist of the month. Her work is collected internationally and exhibited in galleries and museums across the country.
SELECTED  COLLECTIONS
The Crocker Art Musuem, California Contemporary Painters
Portland Art Museum
The Bronfman Collection
Walid Juffali Collection
Chad & Ginni Dreier Collection
Fred & Sharon Schomer
Washington State Arts Commission 1% For The Arts
MGM Center Collection, Aria, Las Vegas
Waldorf Astoria Major Permanent Installation
Ozzy & Sharon Osbourne
City of Seattle, Permanent Collection
Tom Kyte Collection
University of Washington, Permanent Installation
Tom & Linda Coates Collections
Bill and Melinda Gates Collection
Lexus Corp
Deloitte Consulting Collection
Pacific Central Bank
Floyed and Delores Jones Playhouse UW
Starwood Collection, Presidential Suite, Abu Dhabi
St Elizabeth Collection
Presidential Suite Ankara JW, Turkey
Cosmopolitan, Public Collection, Las Vegas, NV
Opryland Collection, Nashville, TN
Neiman Marcus Fine Art Collection
Ritz Carlton
Carol Milgard Center
Seattle University
Washington Square Towers
Evergreen Hospital Permanent Collection
The Peninsula Hotel Collection
Overlake Collection
PUBLICATIONS
LUXE Magazine, Feature Cover, Contemporary Art and Architecture, 2014
Carmel Magazine, Feature, "Getting a Break in The Art World", 2013
Eco Salon, "10 California Artists Ready to ChangeThe Way You See The World",2012
San Francisco Chronicle, "Abstract Painter Who Shatters Her Images", June 13, San Francisco, CA, 2011
LUXE Design Dialogue, October 2011
California Homes + Design, July/August 2011
California Homes Magazine, July 2011
San Jose Mercury News, June 2011
LUXE Magazine, Artist Profile, September, Northwest Edition, 2010
Seattle Homes, September, 2010
The New Fillmore, June, San Francisco, CA, 2010
San Francisco Magazine, Best of The Bay, July, San Francisco, CA, 2010
Haute Living SF, May 27th, San Francisco, CA, 2010
Reside, June 5, San Francisco, CA, 2010
San Francisco Modern Luxury, June, San Francisco, CA, 2010
M Magazine, Hotel d'Art, December, Orlando, FL, 2009
Idaho Arts Quarterly, "Interest and Impact", Boise, ID, 2009
The Columbus, Show of The Year, Les Dames du Verre, Columbus, OH, 2009
Boise Weekly, Phoenix Rising Cassandria Blackmore, Boise, ID, 2009
Seattle Homes, September issue, Seattle, WA, 2009
The Columbus Dispatch, March 30, Columbus, OH, 2008
Florida Architecture, spring issue, FL, 2006
Seattle Weekly, Seattle, WA
AWARDS
SOFA Selects
John Hauberg Fellowship, Pilchuck, Stanwood, WA
Renwick Smithsonian, featured Artist of month, Washington D.C.
EDUCATION
1992 BFA With a thesis exploring Eastern and Western Perspectives
Pacific Northwest College of Art | Musuem School, Portland, OR
our featured artist below